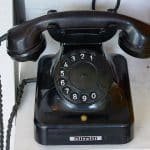 When considering a phone system upgrade for your business, if you haven't already made the switch to VoIP, then it should be your central thesis.
VoIP takes the pressure off your office's existing computer network. It transmits your calls as data over the Internet, much like email and other commonly used software.
1 Despite a challenging economic environment, businesses have continued to switch from landline to VoIP services. The primary draw is the cost savings, with business VoIP services growing faster than residential. Some companies have reported a long-term savings of up to 90 percent. Among other savings, VoIP ensures significantly reduced costs for domestic and international calls.
2 If your company still uses a traditional phone system, it's time to free up some space. It's cumbersome to manage all of those physical lines and hardware, not to mention fixing it when something goes wrong. This type of system can be very expensive to repair, and can cost more money as a result of downtime. With VoIP, the provider's network replaces the switch entirely.
3 VoIP also gives your employees the ability to use many features traditional hard-line systems don't have, such as making calls from a laptop or forwarding calls to a mobile phone. These and other features are easily integrated into VoIP phones as they become available, usually requiring no new hardware purchases.
4 A world without VoIP is becoming less and less desirable — both for your customers and your employees. Having the ability to use Internet provider-based phones, including desktops, wireless phones and videophones, has changed the way we communicate.
5 Employees can call work and see a conference happening as they take part. They also can use email to track missed calls or return calls, thus making the customer service experience a better one as well.
Just like its other network services in Little Rock, Network Data Services is dedicated to finding the right blend of hardware, expertise, and support to fit your business' growing needs, including the possible addition of VoIP phones.
Call us today at 501-791-7900, or contact us here.